Start your successful career in TECH using NoCode tools
NO

initial experience |

NO

writing code |

NO

technical background

Stats at $39/mo, cancel anytime
Let's recap. What is NoCode?
And why 44% of software worldwide built using these tools
#NOCODE

is a digital revolution that is aimed at democratising software development for non-coders. If you can think logically or visually, you should be able to build and ship digital products.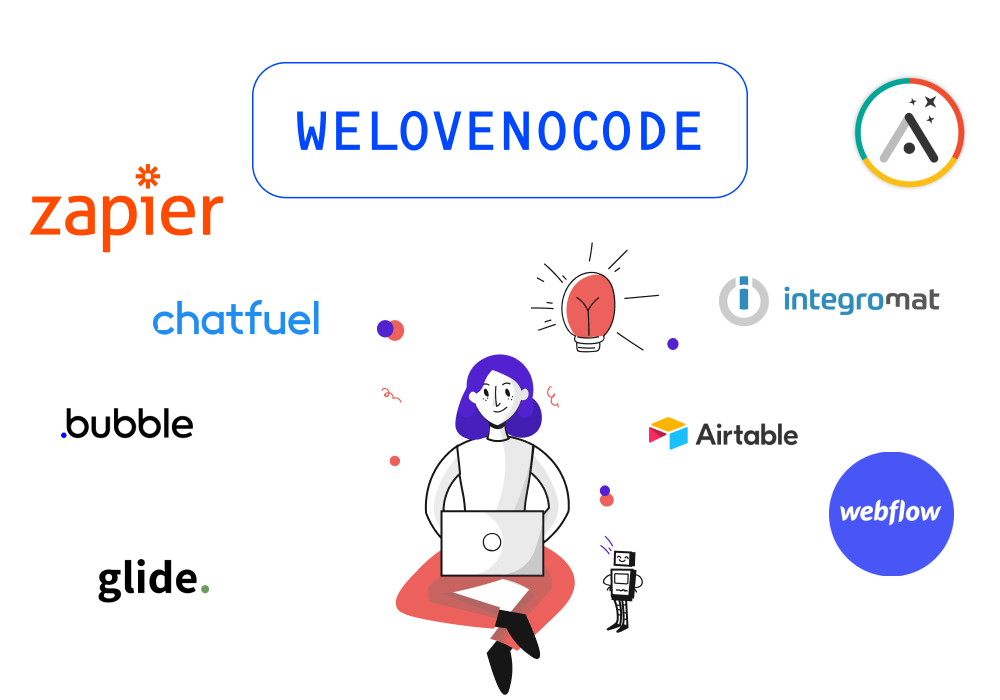 From Zero experience in NoCode to a high-ticket

professional

in just two months!
And here's why you can become NoCode developer so fast
Learn complicated
math and algorithms
To start a career in programming you have to master how algorithms and program logic are created.
Learn to use visual interface
With NoCode you create using visual elements and simple block-like builders to create apps and services.
The speed of development:
Average development
length — 8 months
To complete and test your first fully-functioning project you need dozens of developers to code, test and release your project.
Average development
length — 20 DAYS
Our students create projects like Airbnb or Tinder in just 30 days. And it's not a simple beta Product, it's a complete replica with all required functions.
Write a lot of code
to create elements
For example, to create a status bar or registration for users, you have to write a lot of code from ground zero.
Drag&Drop to create
98% of elements
NoCode has most elements pre-made for users. All you need to do is to drag them to the right place!
"The best code is no code at all"
Jeff Atwood
Co-founder of Stack Overflow and Discourse.
So… Is it even possible to start a successful career in NoCode?
We understand how you might feel right now… It's okay to be a little nervous when you start a new career. And NoCode development is a young industry and it's not as large as the сode industry. Yet.
But the fact that in the past year alone NoCode companies have acquired hundreds of millions of dollars from investors proves that NoCode is one of the fastest growing industries in the world.
And our company is a great example of that growth. Recently the product directors of Snapchat invested in our project.
We are developers ourselves and we teach you what we do. Every. Single. Day.
We are the right fit to help you start a successful career in TECH!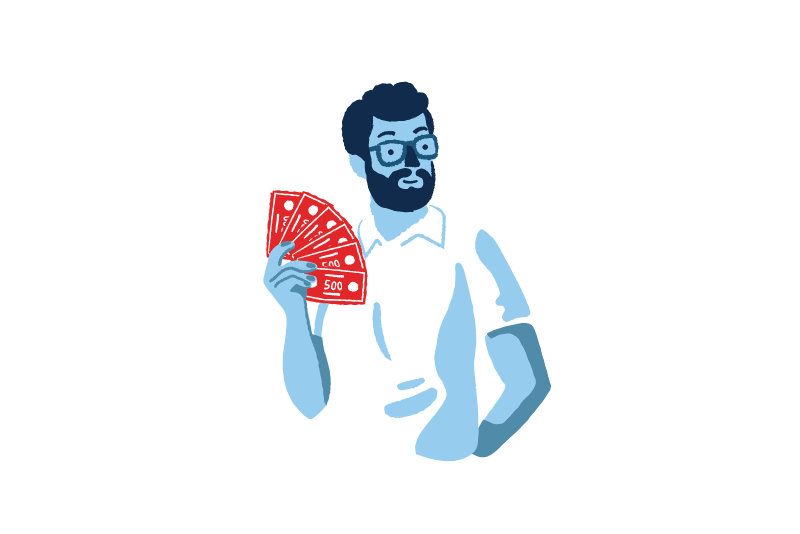 Learn from one of the fastest growing NoCode
development companies in the entire world
We are WeLoveNoCode. And we teach you what we do every single day.
5 reasons to start learning NoCode today:
Reason #1. Start getting paid immediately
Tired of endless internships and companies requesting 1+ years of experience for junior positions? It's possible to receive your first project after a month of learning NoCode! No internships or additional experience needed!
Reason #2. NoCode developers are highly requested professionals
Here at WeLoveNoCode we receive at least 50 requests a day from customers that are willing to pay for our services right now. And you will find thousands of opened positions on sites like UpWork or Glassdoor
Reason #3. Work from anywhere in the entire world
Most companies don't require you to go to an office. Work remotely from your home.
Reason #4. Choose your own schedule
Tired of waking up at 6am just to get to the work in time? With NoCode, what really counts is the amount of tasks you've completed. And it's up to you when you complete them: in the morning, or even at night.
Reason #5. No TECH background or degree required
You don't have to spend 3 additional years to start your career. It's also not important whether you have a technical background or not.
Here's how WeLoveNoCode Academy works
A step-by-step process to becoming a NoCode developer with us.
Step 1: Try everything and choose your path
Don't be afraid to test as many tools for yourself to find the one that suits your style.
Step 2: Find and master your core tool
Your main tool is really important at the beginning, if you want to successfully launch your career.
Step 3: Learn APIs and Integrations
Take your apps and services to a whole new level as well as your salary.
Step 4: Celebrate! And continue your journey!
Congratulations! You are now a fully-functioning NoCode developer with a lot of projects and successful a TECH career.
What's inside your subscription?
Online courses
The best courses to help you on learning new skills and improve the existing ones.
Webinars and master classes
New Master Classes every week by our experts.
Unlimited access
Choose content for your task and watch it on your own convenience.
Consultations
Consultations and calls with recognized specialists in the industry.
Get high-ticket, full-time projects with our system
Get hired after submitting your project for review.
You start to learn and practice your NoCode skills
Make your project using the course and assistance from our platform
Submit your project for a review and one of WeLoveNoCode members will give you feedback and a possible job offer
WeLoveNoCode ACADEMY subscription
We got you covered with our double guarantee:
Step-by-step process of becoming a NoCode developer with us
A 7-day, 100% money back guarantee, if you decide that NoCode doesn't suit your goals.

In case you didn't match with NoCode in the first 7 days…
We will refund the subscription fee without extra charges and no questions asked. Simply send us an email using your dashboard.



Cancel any time with no extra charges and fees.

You can cancel your subscription at any time. Note that your subscription will continue during the period the already paid for.
With NoCode… You DON'T NEED 8 months to transition from one job to another.
In fact, you don't even need half of that time. 2 months are enough!
No more spending 4 hours a day to master a tiny bit of the subject
learn fast and easy tools that are actually user friendly
No more 9-to-5 and waking up at 6 am to go to an office
most NoCode jobs are remote and have a flexible schedule, yet maintain a competitive salary.
No more "I might lose my job" thoughts
development is one of the most in demand jobs worldwide. For example, here at WeLoveNoCode we get at least 50 hire requests a day (you read that right).
Frequently asked questions
How does WLNC Academy subscription work?
First, you apply for a subscription. It's either monthly or annual, with one standard fee that is fixed with your purchase.
After that you will have access to the dashboard where you can browse all the courses and cases; also access take part in all webinars presented within the platform.
New courses and content are delivered every month for your constant improvement!
Can I cancel my subscription plan?
Yes, you can!
You can cancel any time using your Members Area on our learning platform. Note, that if you cancel, your subscription will continue on until a prepaid period of time.
And don't forget: you have a 100% money back guarantee in the first 7 days after your purchase! So go ahead and try WLNC Academy courses risk-free!
What are the requirements to become a NoCode developer?
For becoming a developer you don't actually need any TECH background nor experience. You don't even have to be really good at math.
What you need is a motivation to learn a brand new tool, at least 30 minutes per day for studying (so that you can make your first project in a month) and a laptop or desktop PC with an internet connection.
How many NoCode tools are out there?
There are currently 25+ NoCode tools that you can use during your career path.
The most popular are Bubble, Adalo, Glide, Webflow and Zapier.
What can I build using NoCode?
You can build literally any app, digital service or website using NoCode. The common misconception is that NoCode is only for simple software, this is not true.
Here's just a small list of well known apps that you can rebuild with NoCode:
✅ UpWork
✅ UberEats
✅ Tinder
✅ AirBNB
✅ Udemy
✅ Amazon
✅ Instagram or any other social network in general
✅ And much, much more…
However, there IS a catch. You might experience some difficulties with an app that is planning to host more than 1000000 + users at one moment. At that point you'll have to set up additional SQL bases. But anyway, that's less than 1% of the cases.
Do you provide Certificates or Diplomas?
Yes! After completing each course, you will receive a Diploma as proof that you have finished the course.
Unlock your video NOW
You will receive the video immediately after registration
Created with